Thanks to the long experience as web content editor, in this page you can find some of the main collaborations with websites, companies, blogs and magazines.
– Vogue.it
Thanks to Franca Sozzani, editor in chief of Vogue Italia, I am one of the contributing authors of the VOGUE ENCYCLO project, for which I've written several entries concerning fashion, costume history and fashion icons such as Cher and the diva of the silent movie era Gloria Swanson.
– TeladoioFirenze.it
Since the end of 2012 I worked for one year as Fashion contributing editor for the Florentine magazine online TeLaDoIoFirenze.it, writing articles for the Lifestyle column curating also interviews with important Tuscan fashion designers such as Emilio Cavallini.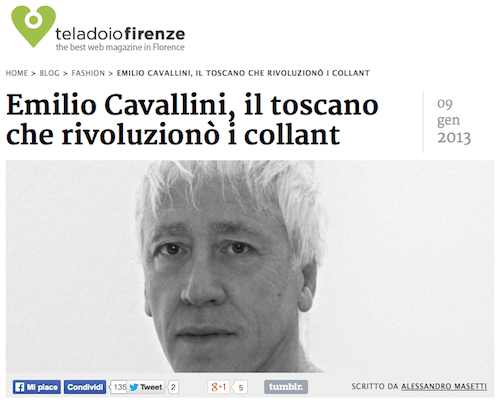 – So Vain Magazine
From December 2011 to January 2013 I worked as Men's Fashion journalist for SO VAIN MAGAZINE
– PremiereShooting.com
For at least 3 years since 2010, I've been a Fashion Editor for the magazine on line premiereshooting.com, writing articles on fashion trends, products, accessories and also curating the fashion scouting section dedicated to young upcoming designers.

Guest posts for other blogs/magazines
Pitti Uomo 86 full reportage for UploadYourTalent.co
Interview to the fashion designer Alberto Carlo for My World in a Bag
Article for Best Wester Hotels website
Mentions or inteviews on blogs and magazines
Menzionato su GoNews for being selected as official blogger of Costume Colloquium IV
Mentioned on Nove da Firenze for being selected as one of the official blogger of Costume Colloquium IV
Mentioned on PortaleGiovani of the Comune di Firenze for being one of the official blogger of Costume Colloquium IV
Radio interview for Envie de Vogue on Radio Spin (december 2014 – Italian only)
Mentioned in a funny article by Marina Savarese on I Hate Bananas