Franca Sozzani has died.
I'm feeling sorrow and bitterness because as much as in recent years I didn't like anymore the (non) contents of the magazine and some dynamics of her blog, I owe a lot to Vogue Italia's editor-in-chief Franca Sozzani.
I wrote for Vogue.it exclusively thanks to her. She, against the advice of all the editors of the foreign versions of the magazine, opened the Vogue's gates to its readers, involving us in many projects, first of all, the Vogue Encyclo: an ambitious channel dedicated to the creation of a fashion encyclopedia.
The drafting of the texts required an absolute dedication with weeks of study to verify the sources, read biographies, and find all the dates. Certainly, you couldn't just copy Wikipedia. If you didn't submit your assignment on ​​time, you were out of the project, and if your text didn't respect Vogue's standards, you would never get it published. That's why every time my name appeared on the home page, I was the happiest man on earth!
It sounds stupid? Maybe, but not for me.
Vogue Encyclo was a gym that taught me to strongly believe in myself and to do my best to be featured in the magazine.
I owe a lot to Franca Sozzani, Yes; as I owe a lot to myself. In 2010 I started a blog on fashion culture that gave me a lot of satisfaction including teaching experience. But I want to point out that part of that satisfaction derived from the great pride I felt every time my pieces were published in Vogue. And that was the only way Sozzani could help us to get credibility, urging us to "use" the magazine to grow and build a respectful and professional CV.
Now, after some years, I can say that the Vogue brand on my curriculum was (and still is) quite unfavorable because the Italian labor market prefers stupid people without any aspiration. But I'm too proud to hide it and I'm very satisfied when I can slam it in the faces of envious and frustrated people with no dreams (very common in Italian HR field).
Writing for Vogue was a dream and no matter if during interviews I'm systematically told: "you are overqualified for us; we need people who do not think and do just what we require"; "you would mortify your professionalism if you work for us".
Perhaps another lesson from Franca Sozzani was this: dreams come true with hard work and dedication, and once achieved one, you have to look over, always aspiring to higher goals. So why getting mad to work in a place where they don't want/appreciate you?
Although I can't be considered a friend, but simply a guy who crossed often her way during fashion events, and with whom she exchanged ideas and thoughts both online and live, I owe a lot to Franca Sozzani, even the ability to be proud of myself every time I look my face in the mirror.
And that's nothing small!
Thanks direttore!
Alessandro Masetti – The Fashion Commentator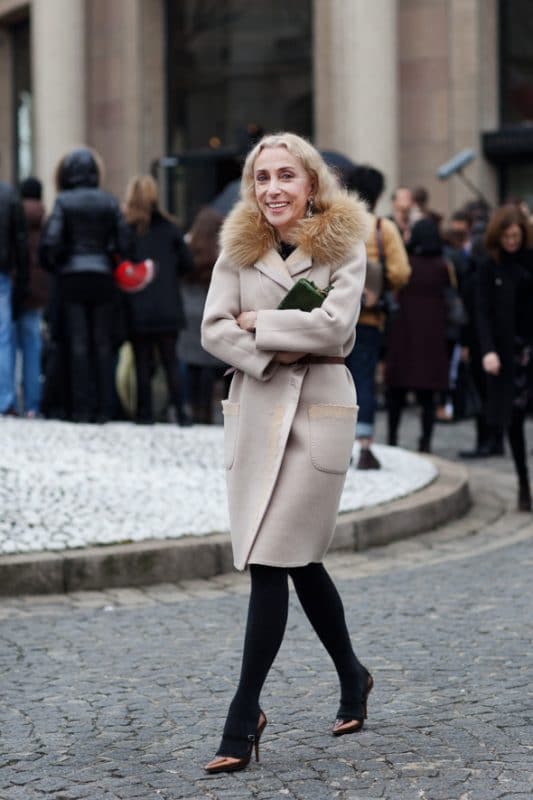 Ph credits: TheSartorialist