As you may know, The Fashion Commentator hosts the countdown for the non-celebration of my birthday until the 10th of August, and day by day I'm taking you in a journey through a long wishlist of dream-gifts, that now is starring the world of high technology and design thanks to the Panasonic DX800, the latest TV screen launched by the renowned Japanese brand.
Who follows me on social networks already knows how much I love those documentary movies that take you into the behind the scenes of major fashion houses, such as "Dior & I" by Frédéric Tcheng, dedicated to the debut of Raf Simons in the guise of neo (and now former) creative director at Christian Dior; or those movies that reconstruct the intimate path of contemporary characters, such as "Life through a Lens" based on the life of great photographer Annie Leibovitz.
But, at the same time, I hate watching these so intense stories on the computer screen, or worse, in a crowded cinema between people who comment and laugh loudly while munching fried chips.
So I said to myself, why not recreate a movie theatre in my house adding to the wishlist one of the latest hi-tech TV with super wide-screen in high definition?
Like a movie theatre: Panasonic DX800
The choice fell on Panasonic DX800, which thanks to the LED 4K UHD screen reproduces images with the same quality, contrast and colors imagined by movie directors. This feature was born from the close relationship that the Japanese company has established with the Hollywood film industry, specifically for ensuring the Panasonic DX800 to reproduce exactly what filmmakers wanted to create in their movies.
The Panasonic Studio Master HCX processor (Hollywood Cinema Experience), that according to cinematic quality tests earned the THX certification, gives the highest color accuracy possible.
In addition, the vivid colors and the local dimming of the Cinema Display give to films a new perspective, reproducing detailed gradation both in bright scenes and dark sequences, and offering a visual experience that you could have only in movie theaters.
Modernist inspired Design
Furthermore, the visual hi-tech quality of Panasonic DX800 matches the refinement of its design: in fact, at first glance, my attention was caught by the shape of the structure that supports the screen. Its lines are very close to the taste of iconic design masterpieces such as the tubular chairs by Breuer, Van der Rohe and Le Corbusier from the 1920s. An attractive and seemingly futuristic appeal, that adapts to any environment and characterizes the TV as a design piece itself.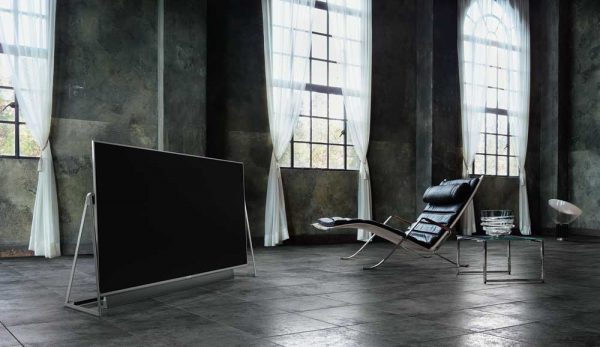 In short, the Panasonic DX800 is definitely the one and only hi-tech object of desire of my wishlist, and by now I'm already looking forward to find out all the high resolution details that I missed so far!
Discover all the details and informations about Panasonic DX800 by clicking here.
Alessandro Masetti – The Fashion Commentator