On May 21st and 22nd, Emilio Pucci opened the doors of the archives in Granaiolo, in Florentine countryside, for the third edition of "Les Journées Particulières", a two-yearly opening event with which the LVMH luxury group welcomes the public in the headquarters of its brands.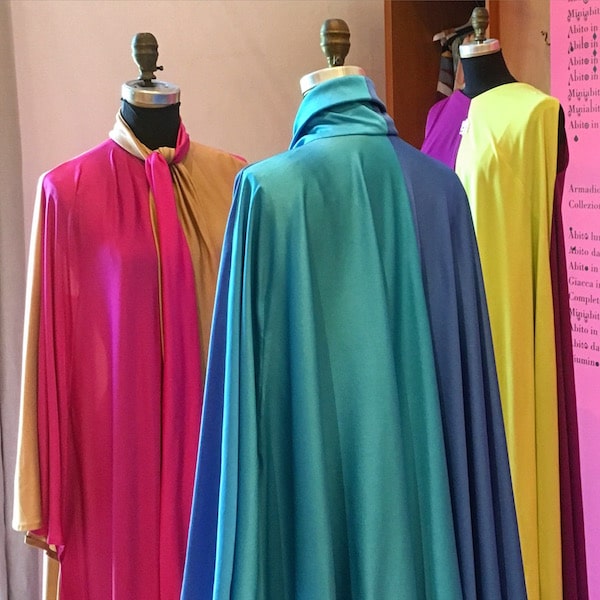 I visited the Emilio Pucci archives several times since the first opening in 2012, but given my passion for the imaginary world of the "Prince of prints", it's always a pleasure coming back to the Villa di Granaiolo and be bewitched by the eternal styles of Siciliana, Botticelliana, Palio, Vivara, Paggio, Romantica, Bali, Fantasiosa, Cupola, Viva, Gemini, Vivace and all the other collections that, despite their "age", look more contemporary than the latest catwalk trends.
This time I enjoyed my visit even more than the past, because I was there as TA of the "Fashion Writing course" of the International Studies Institute of Florence, and together with Prof. Mark Bernheim, I showed to American students an unknown world that they usually see only through the windows of the stores. Once they crossed the threshold of Villa di Granaiolo, their eyes lit up at the sight of colorful Pucci clothes and accessories, just like American journalists and buyers did in the Sala Bianca of Palazzo Pitti 60 years ago at the first Italian fashion show.
The exhibition setting, named "Elements" and curated by Maria Luisa Frisa, showed the codes that still define the brand: from the silhouettes of jumpsuits, skirts, two-piece suits, mini dresses and silk scarves; it went on with a section dedicated to the decorative patterns of the accessories, and ended in a great hall with all the original interpretations of classic fabrics like silk and jersey according to the Pucci style, mixed with textile innovations like items made with the Emilioform.
Next to the archives there was the Talent Center, where students from Polimoda and Central Saint Martins designed new Pucci prints and under the supervision of seamstresses and pattern-makers of the company made a small capsule collection of clothes.
The full-immersion in the Pucci world ended with the meeting with former ECAL student Pauline Saglio, who developed the "Interactive Scarf" project, a special interactive installation with which the iconic scarves of the brand took life with lights and sounds, stimulating a 360° Pucci experience.
Alessandro Masetti – The Fashion Commentator