On November 13th at 7.30 pm, the artist Thomas De Falco will invade the Marino Marini Museum in Florence with RED, his last performance and textile installation curated by Laura Cherubini, in collaboration with EQUA (Camilla Morabito).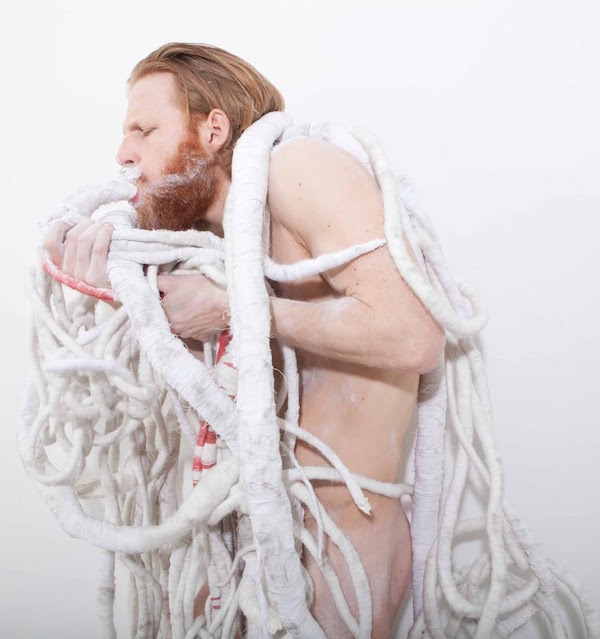 RED is a set of knots and weaves.
RED is a net of solid roots made of warp and weft.
RED is a sculpture of cotton, silk and wool, made with the wrapping technique, which is inspired to the old art of weaving tapestry on vertical looms; every node is multiplied incessantly, creating a web in which De Falco asks to the performers and the viewers to "remain forever".
RED is the leitmotif-color that features the entire artistic production of De Falco and in this performance stands out as a spark in the intricate and completely white wraps.
RED is created around the bodies of two women, two men and two children (Sabrina Querci, Eloisa Reverie Vezzosi, Olivier Langhendries, Jemberu Perucchini, Didi Folonari, Zeno Balich) placed in the center of the space, with in the background a live music session by Umberto Turchi, Matteo Zecchi and Andrea Sernesi, and the reading of a text written by De Falco himself.
The four performers are wrapped and connected in a net that spreads all over the room, creating an "emotional root" in which flows the desire for communion with others. The standing subjects, initially motionless and with closed eyes, change their positions through a slow and subtle mutation, being embedded in a commune sculptural block, attempting to "freeze" forever the romantic ideal of human love.
---
what: RED. Performance and textile installation by Thomas De Falco
where: Museo Marino Marini, Piazza San Pancrazio, Florence
When: November 13th, 2015; h 7,30 pm
Alessandro Masetti – The Fashion Commentator