While I'm publishing this post I'm in Milan for the must-see event of the year that the entire world envies us. No, it is not the Fashion Week, but the Salone del Mobile. Given that I'll be busy for the whole week in a "haven of creative ideas" between art, design and architecture, I decided to dedicate this post to Luisa Tratzi, the shoe designer I met during Milan Fashion Week, whose style and design are strongly influenced by the edgy shapes of contemporary architecture.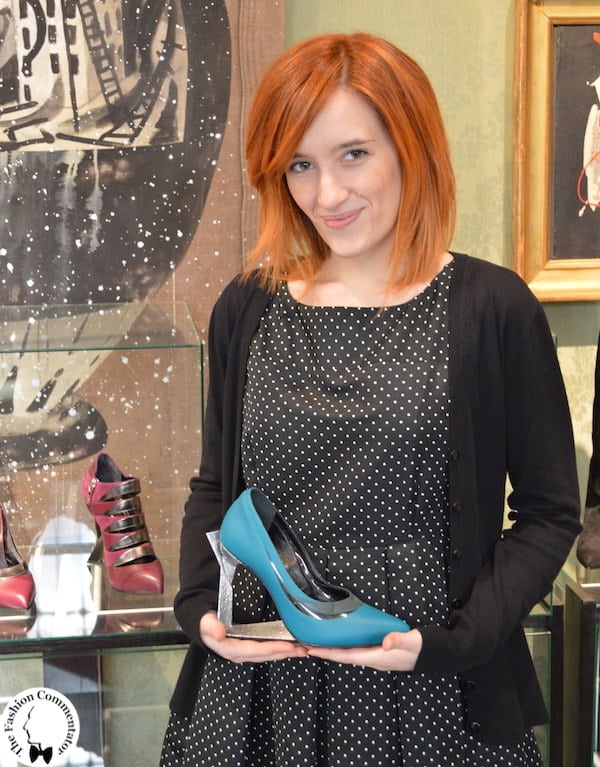 I ring the bell of an old gate in the center of Milan, only a small portion opens and leads into a gallery, which in turn leads into a typical Milanese courtyard overlooked by a series of windows which you are tempted to peek into, then another richly decorated door opens in front of me. Finally I'm at the Luisa Tratzi temporary showroom housed in an art gallery. Wonderful!
Let me be clear, I do not want to bore anyone telling every single step I took, but only let you understand how a common action as entering a house or a private place, after viewing the Luisa Tratzi FW 2015 collection could be seen as a sort of preparation for looking the world through her eyes.
No surprise that the first catching attention detail are the elaborate sculpture heels reminiscent of a deconstructivist work of the architect Zaha Hadid, but no worries about the shape and the equilibrium, because they were tested in collaboration with structural engineers, just like a building.
Luisa Tratzi Miss Garçon
The Luisa Tratzi FW 2015 collection is called Miss Garçon and is inspired by the androgynous look of icons like Greta Garbo, Katherine Hepburn and Marlene Dietrich whose style made them the perfect interpreters of the feminine charm through the masculine tailoring details.
Luisa reinterpreted the formal menswear clothing in a fine and playful way: the ankle strings look like starched collars, the small rivets and studs applied on the toes simulate the buttons of a shirt, while the small triangular tabs that protrude along the instep are a tribute to the lapels of tuxedo jackets.
Also the choice of materials is consistent with the androgynous inspiration: pure silk jacquard fabrics from the world of neckwear match fine leather in the cool-but-brilliant shades as baby blue, peacock blue, hydrangea pink and plum; while the polka dots and houndstooth wool are combined with glossy finish and mirrored leather or soft suede.
Art, architecture, design and fashion, are all the disciplines that the Luisa Tratzi FW 2015 collection perfectly materializes educating the eye to recognize the beauty even at the height of the feet.
Alessandro Masetti – The Fashion Commentator