Japanese mood, scarves, prints, polka dots, sweaters and stripes are just a little part of Nō ARTIGIANI ITALIANI, the commercial brand that is seducing the press and the market thanks to its special kind of knitwear for men.
Intrigued by the rapid growth of the brand I interviewed Claudia Cennamo, one of the CEOs together with Mirko Buffini, and I discovered that behind Nō ARTIGIANI ITALIANI there is a whole universe born from the passion and the dream of two persons who strongly believe in the  Made in Italy values and who have bet on a different way of conceiving fashion companies in Italy.
Here it is the interview!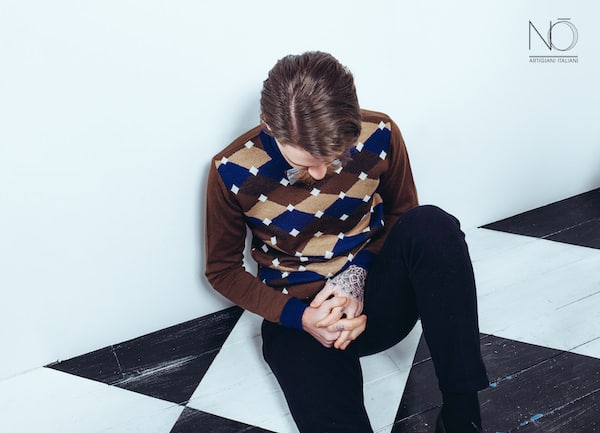 – First of all, the name of the brand: Nō ARTIGIANI ITALIANI. How and why did you choose it?
As a group we are fascinated by the Japanese culture of the samurai warriors and when we study the name of our brands and lines we always try to include references to that world.
For the knitwear line we got into Nō theater, a type of traditional theater which is characterized by the coup de théâtre that upset the balance of the play. We wanted to link this sense of surprise to our personal way of conceiving a new brand in the old scenario of the fashion companies in Italy.
– What makes you different from the other knitwear brands on the market?
Nō ARTIGIANI ITALIANI is part of a larger reality that is not limited to clothing and which gathers more souls such as the fragrances of Mirko Buffini Firenze. The common thread among these realities is just our taste, which materializes in the search for particular forms and yarns for knitting, or valuable raw materials and sophisticated packaging for the fragrances.
– Let's talk about your story. The company, who are you and what are your previous experiences.
Mirko Buffini and I are the CEOs of ITALIAN TOUCH Firenze, the holding with which we control all our brands, and in each specific branch we develop individual projects also with other associates.
Personally I've always been linked to the world of fashion, in fact, after my graduation at Polimoda, I worked at Elisabetta Franchi, the high fashion brand owned by my father, for which I managed both the development of the accessories and the worldwide buying office. It was definitely a challenging experience that taught me a lot.
Mirko Buffini is more linked to the wellness field because he owns several beauty salons and this is the main reason for his interest in developing an high-end perfumes line.
– What drives two people to create such an ambitious project in these days?
We are great friends since a long time and when we went out on Sunday evenings for the happy hours with our company, we said that sooner or later we would have to create a business together.
One day, for his birthday, I gave him a niche fragrance that intrigued him so much that he tried to find companies which were able to realize such products in Italy, and as soon as he found one, he asked me to launch our own business together. I accepted immediately because we shared the same moral values ​​about the way of conceiving a company, which must be based on human relationships and on doing things with passion.
For many people we are just two crazy persons, but this company is the result of a common dream that we made possible.
– What kind of research involves the concept of Nō ARTIGIANI ITALIANI?
The creative spirit of Nō ARTIGIANI ITALIANI is represented by me and Marco Capaccioli and since our first collection we took inspiration from the Japanese culture, declining every thing we saw during our travels into knitwear textures and prints.
At first we were supported by the Paolo Pecora studio to have an idea for the fitting and proportions, then, observing the sales data, we noticed that what our independent desing projects had a great commercial success, so we decided to follow this path.
I must say that we did not expect so much success, but probably it is due to the experience acquired in my previous job because I always add that "something" which makes a product attractive and salable.
I'm not a fashion designer and I would not be considered so, but I think that today exist new key figures that should assist the designers because poetry and style, are not enough. It's true that with the pure aesthetics we can make such beautiful masterpieces, but if they don't find favor with the customers, you cannot make sales and letting your project to go on.
– What are your future plans?
In the future we aim to develop both the projects.
For the knitwear of Nō ARTIGIANI ITALIANI we want to achieve a targeted distribution in medium-high stores, while for the Mirko Buffini Firenze fragrances we want to develop more projects abroad opening new corners and mono-brand boutiques.
We currently have showrooms in Tokyo and Hong-Kong and in February we were selected as the only Italian brand among the main new-brands of the famous Isetan department store (Tokyo). It could seem obvious, but we are really excited about that, because it is a prove that the high quality of a so young niche brands as Mirko Buffini has been fully appreciated by foreign markets.
In addition to our plans-abroad, we will open soon in Prato a new headquarter of 4000 square meters in which the knitting mill will be side by side with the perfumery  laboratories dedicated to the development of new lines.
Alessandro Masetti – The Fashion Commentator
Special thanks to Claudia Cennamo and Luana of the Press Office.