During Milan Fashion Week you could feel a sophisticated atmosphere at via Pontaccio 21 for the presentation of the Kiton FW 2015 womenswear line, crowning glory of the Neapolitan tailoring brand Kiton, which welcomed the guests with a sensorial installation where dresses perfectly matched with colors, scents, flower compositions and contemporary art.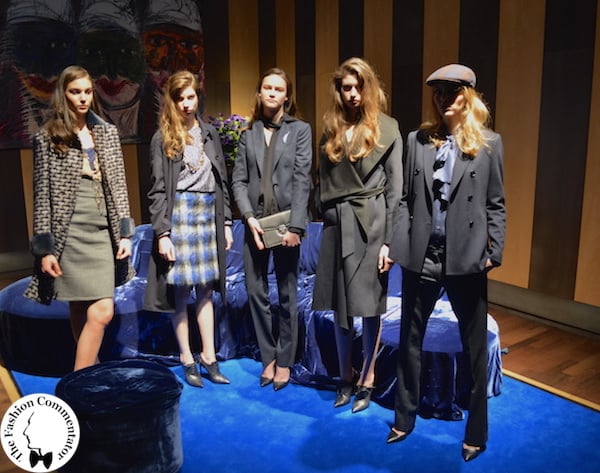 Kiton FW 2015: Color
The Kiton FW 2015 presentation takes place in 3 contiguous rooms featured by a different color each. Room by room the clothes in the shades of green, blue and orange come to life in delightful tableaux vivants which remind the luxurious scenarios of Tamara de Lempicka's paintings. The models, whose faces are framed into Vhernier jewelry pieces, talk to each other in full relaxation and enliven the rooms while walking among the wonderful art-deco and modernist furniture on which are arranged spectacular flowers, combined with art works by Mimmo Paladino, Lucio Del Pezzo, Manlio Giarrizzo and Lello Esposito.
Tradition and innovation
The research and use of the finest fabrics fully reflect the sartorial tradition of the Neapolitan brand, and the introduction of shoes and leather accessories to be matched with the deconstructed kimono-jackets, the straight lines of pants and skirts or the soft silk shirts, proves the growing interest and commitment of the company to this womenswear line. It's no surprise that the distribution chain will be soon increased with the opening of Kiton flagship stores only for women.
A tribute to the architect of fashion
As architect and fashion lover, entering Palazzo Kiton was a real thrill for me, because in the offices at via Pontaccio 21 took place an important part of the Italian fashion history. Indeed, it was the former headquarter of Gianfranco Ferré and it was here that "the architect of fashion" drew his famous white shirts, now celebrated with an exhibition at Palazzo Reale in Milan (previously showcased at the Textile Museum of Prato in collaboration with Fondazione Gianfranco Ferré).
Imagining Mr. Ferré in these rooms while giving vent to his creativity made the Kiton FW 2015 presentation even more impressive, especially considering that Ciro Paone (Kiton's CEO), before moving his company there in 2014, decided to make a conservative restoration of the building respecting the original lines and functions, marking a continuity between past and present in the name of the best Made in Italy.
Alessandro Masetti – The Fashion Commentator