3 … 2… 1… FashionLoop! 
The new appointment on The Fashion Commentator with the ever-recurring cycles of fashion.
Among my New Year's resolutions for 2015 I promised myself to create a "new vision" for the blog, so here it is my column FashionLoop!
The idea is not new, I've already experienced it in nearly five years of blogging both on the Facebook page and in fashion reviews (see Gucci SS2013 or the series of Stream of Consciousness post), but now it's the time to dedicate more space to it!
What is FashionLoop?
Nothing could be simpler. Having the opportunity to attend fashion shows and browse lots and lots of books with archival photos, I realized how fashion has always repeated itself. Not only through the revival of styles and trends, but also re-proposing specific garments or accessories in a short time, creating an ever-recurring cycle from one season to another.
I know this isn't a new discovery, but given that I have a photographic memory and for each collection I see I can easily find where the designer drew inspiration; I said to myself: why do not share these iconographic references extemporaneously, without relegating them into fashion show reviews? I definitely need of a new column!
Let me be clear, my intent is not to denigrate fashion designers who "copy" each others, but rather to share the inspirations comparing old images with new photos, adding a few captions just to explain the comparison.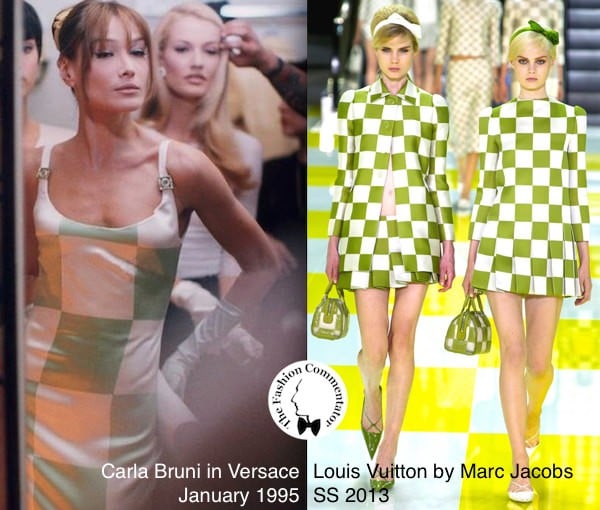 The name
Actually, at first, my real dilemma was: Which name could I give to my new column?
I wasn't so happy with the few names I had in mind, so I preferred to ask for help on The Fashion Commentator Facebook page, and I'll never stop to thank my friend Paolina for having found this perfect and hashtag-able name that expresses the ever-recurring cycles ("loop") of fashion: FashionLoop!
FashionLoop number 1, let's begin!
As first comparison I would like to start with a large overcoat featured by a pseudo-patchwork pattern of the Prada Spring Summer 2015 collection.
The slightly oversized kimono shape brought me back to the famous Maison Martin Margiela Fall Winter 1999 collection where duvets were transformed into down jackets, wrapped into duvet-covers made of vintage sheets decorated with floral or striped patterns.
The peculiarity of the duvet-cover was its versatility, because once removed the duvet, it became a sort of kimono dress, just like the one proposed by Her Holiness Miuccia Prada for this summer.
The comparison, however, does not end here, in fact the patchwork effect of Prada resembles also the duvet of the Walter van Beirendonck Fall Winter 1999 collection, whose shape, in turn, is very close to Margiela (they both graduated at the Royal Academy of Fine Arts in Antwerp).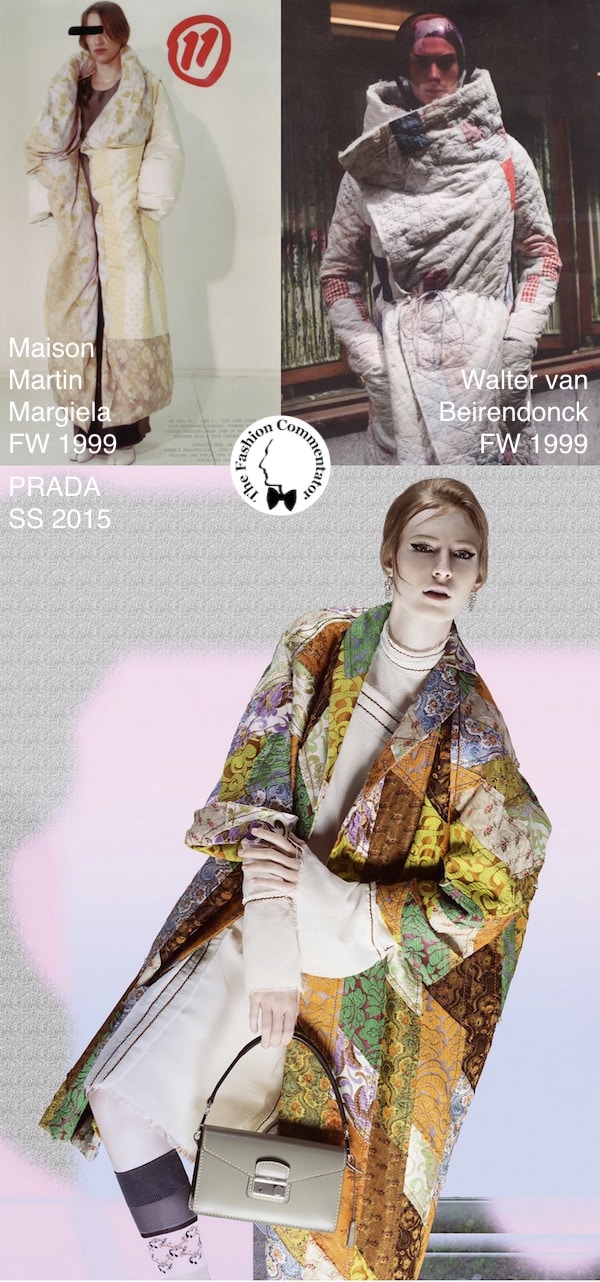 A good start for FashionLoop, isn't it!?
Alessandro Masetti – The Fashion Commentator