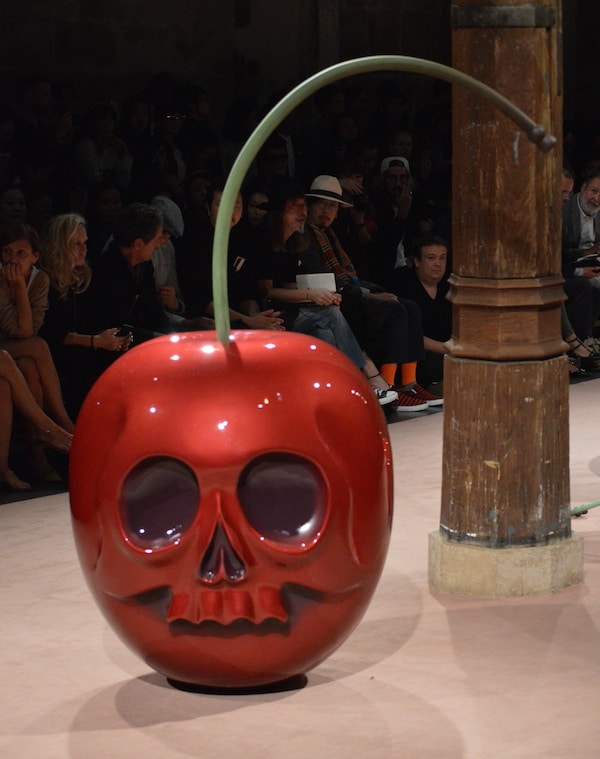 While the streets of Paris burn under an unusual late-September sun, the old refectory of the Couvent des Cordeliers becomes a dark enchanted forest with giant cherries apparently fallen from the pillars of the hall. It is not a dream, nor a paradoxical scenario of the Gulliver's Travels, but only the set of the UNDERCOVER spring summer 2015 fashion show. Just looking at these elements is clear to everyone that once again Jun Takahashi will amaze the audience with one of his eclectic collections, full of symbols and artistic references.
With the same slowness and solemnity of a ceremony, the show begins with a procession of winged maidens wearing prom dresses in pastel shades with large skirts, while their hands shimmer at every step thanks to the rings with crowns and bluebells. Soon after fairies and ballerinas, who look like they came out from a Tchaikovsky ballet, wear long and short dresses made of iridescent silk layers decorated with lace and satin plant motifs similar to crowns of thorns, matched with the cherries and berries on the flat shoes.
The entire collection is dominated by romantic elements and there are no exceptions to this mood even for sporty items like parkas and oversized wind-jackets, in fact, right next to the minimal laser cut flap pockets we find small baroque frames for i-pads, apple-shaped pvc inserts, cherries minaudière with brass-knuckles handles and maxi plastic buttons similar to cameos depicting stylized swan heads. A mix of bizarre elements that bring us back to the main themes of the eighteenth and nineteenth centuries fairy tales.
Too bad that, as soon as we are convinced of giving a logical sense to the whole mise-en-scene, the music changes into church choirs and a series of short dresses inspired by Hieronymus Bosch's grotesque allegories slowly goes on the catwalk matched with pink rubber jewelry and renaissance-like bonnets made by the famous milliner Katsuya Kamo.
As an allegory, the show ends with the metamorphosis of the maidens into the imaginary birds which give the name to the collection, the "pretty hate birds", and meanwhile the "Swan Lake" theme is going on louder and louder, they parade on the catwalk as proud ballerinas wearing tutu paired with biker jackets and huge feathered crowns while acknowledging the final applauses of the audience.
PS: As you know from my Facebook page, I've taken billions of photos to this fantastic fashion show and after reading your suggestions I decided to make a short video with all the un-posted pics combining them with the official soundtrack, so that you can feel the same emotions I had during the show. Now enjoy it and share!
Alessandro Masetti – The Fashion Commentator