The main difference between the fashion shows in Milan and Paris lies in the extravaganza.
In Milan we need just a beautiful location and a catwalk to be happy, while in Paris each collection takes its meaning thanks to the mise-en-scène, making this decisive moment into a real show.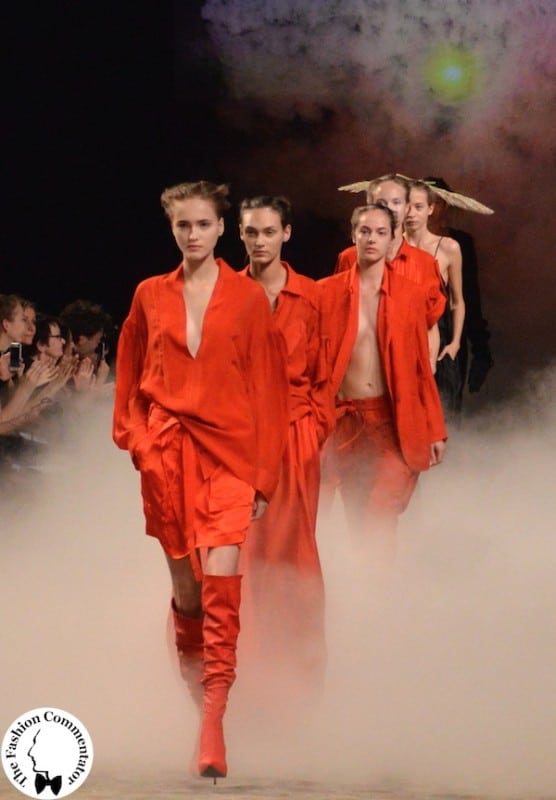 The Belgian couple An Vandevorst and Filip Arickx for the Spring Summer 2015 collection of their A.F. Vandevorst brand, envisioned a new contemporary winged mythological figure, an hybrid between the aviatrix Amelia Earhart and the enchanting sirens of the Odyssey, but to make real the idea of ​​this women carried by the wind, they have transformed the austere spaces of the garage Lubeck into a corner of sky. The scenario imagined for the flight of the models was "Moving Stories", the movie directed by Nicolas Provost which was projected on the background of the hall under a smoke curtain that created a special cloudy effect.
The show opens and concludes with a strapless evening dress, whose train has been made out of an old parachute which seems to keep the history of these heroic female figures of the contemporary urban mythology. On the catwalk there were minimal sporty aviation-inspired items like the jackets hanging from the shoulders as backpack parachute, but also chic and stylish details such as the trompe-l'oeil leather straps that marked the silhouette of suits and jackets;
the Air Force symbols and mottos replicated all over the fluffy dresses to land softly on the streets of the city;
and finally the feathered tapestry-like pattern transformed into real feathers on evening dresses or bold pieces like the sweetheart neckline top to be worn over a white shirt stolen from the men's wardrobe.
Despite the large number of items inspired, or even obtained, by parachutes, there are a few ones that really deserve to be considered as the main protagonists of the show, and although they're not very practical for everyday life, they hold the entire poetry of the collection. They're the shirts, mini-dresses, jackets and coats made of moulded cotton imbued with aluminum, cleverly shaped as the Icarus' wax wings; strong, defiant and full of hubris, but revisited by An and Filip to make them into romantic "Wings of Desire".
Alessandro Masetti – The Fashion Commentator