From the 12nd to the 14th of September, Lucca became the capital of craftsmanship thanks to Fashion in Flair, the fair-market that year after year, gives the opportunity to visit the most beautiful private palaces of the city where you can learn, touch, feel, taste and buy very unique high craftsmanship products, result of a recovery of traditional secular activities.
The 2014 edition organized by Ilaria Mari in collaboration with Spin Factory Events & Wedding and L'Evento Lucca di Franchi e Sechi, was held in Villa Bottini, making the event a very unique experience to re-live one of the most fascinating periods of the history of Lucca (lived there also Elisa Baciocchi, sister of Napoleon and Princess of Lucca and Piombino). In addition to the new breathtaking location, the added value this year was represented by the selection of exhibitors, focused on the highest quality products ranging from fashion, beauty and home decor.
The icing on the cake, was the blogger day: a day in which 8 Tuscan bloggers, led by Sandra Bacci of SmilingIsChic.com, shared on line all the beauties discovered in the fair. Between photo-shooting, shopping, interviews, conversations, laughter and beer tasting we animated the situation a lot.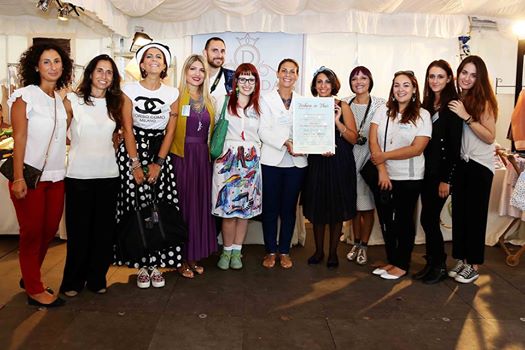 As in the previous edition, I selected for you the best proposals and companies I met at Villa Bottini, hoping to be able to share with you even just a little bit of that enthusiasm and passion the craftsmen have shared with us through gestures and words.
Among leather goods craftsmen, Lafré by Laura Uggé Tamagni definitely stood out thanks to the super light suede garments she made since 2006 mixing the tanning traditions of her family with her own peculiar sense of style generally identified as gipsy chic, but that goes far beyond these two simple words. The treated skin is so light and soft that the iconic lasercut shawls can be worn on summer. Many other effects are declined on minimal coats, safari or military-chic jackets and even on bags with decorative motifs taken from rugs found during her trips in the East.

Tradition and innovation are involved in Dea Sandals, the shoe-brand born from three generations of cobblers that today produces a precious version of the classic Capri sandals using only certified Tuscan leather and Swarovski crystals.
The strength of the brand lies in the combination of traditional craftsmanship and the contemporary way of working because Dea Sandals sells its made to order sandals online only, through the official web site deasandals.com.
This year Fashion in Flair has been a hotbed of revelations thanks to the presence of independent designers like Sara Spadone who brings her art throughout Italy thanks to a special red suitcase that can transform the most unusual places into real atelier. The warehouse of a flower shop, a sawmill, a former industrial complex, these are just some of the special locations where customers rely on Sara's advices while sipping a drink or chatting with friends, creating an intimate and warm atmosphere. A sui generis brand that doesn't want to get into the rigid schemes of serial production and online sales, favoring the direct relationship with the customers and aiming to the creation of unique and versatile items which revolutionize the bon-ton rules according to the individual needs of customers.
Whole different story for Andrea Del Guasta, enthusiastic independent fashion designer who, after 30 years in the fashion industry as a consultant for established companies, decided to start his own clothing and accessory line, thanks to the strong relationship undertaken with the Prato textile companies. His line is characterized by a large variety of one-piece garments made with unique materials such as the coats obtained reworking authentic Japanese kimono or the patchwork leather and fabric bags suitable for every season. While talking with Andrea he stated that his brand is not, and should not be, subjugated to the classic fashion cycles, but only to his momentary inspiration: his clothes, in fact, reject the fashion trend so they can be timeless and wearable today as well as in ten years. He also revealed his great desire to change the fashion system starting with the local Tuscan reality: he would like to open a fashion school, getting in touch with all the craftsmen involved in the fashion production process. He wants that young talents from all over the world can give vent to their creativity by working and collaborating with all the links of the production chain, showing what there is behind a product and letting them to be free and realize their dreams.
Among the companies dedicated to textiles, I was impressed by L'Atelier della Lana, which produces accessories and garments with the technique of nunofeltro, a process achieved through the use of carded wool, combed, mixed and pressed with soap and water, or worked with special needles threaded with triangular sections. This type of fabric is not considered tissue, but allows a wide variety of applications, from the creation of accessories such as shawls, fascinators or even sculptures. My favorite? The blue stole with touches of white and orange reminiscent of a Van Gogh's starry sky or the sea of a beautiful day at the beach.
There were also many stands dedicated to accessories and these include the outstanding creativity of Sogni D'Arte by Adalgisa De Angelis who creates necklaces and bags, mixing ancient brocades, stones, woods and metal. Her piece de resistance, however, are the hats: impossible-not-to-notice caps entirely covered with fabric flowers, characterized by bright colors and fine shapes inspired to haute couture millinery.
There were a lot of jewelry brand this year at Fashion in Flair, and every one was very different from the other, so et's start with Les Charmes de la Vie by Edwige Verzani. She presented the Vanitas collection, characterized by the use of dials of vintage wristwatches reassembled on necklaces, pendants, earrings and bracelets with oriental stones or skull-shaped pearls, citing the seventeenth-century iconography of the transience of time and the inevitability of death. Another collection was Mouvement, a series of necklaces made with the wristwatches mechanisms, glazed and mounted with silver as elegant charms.
I was also bewitched by the minimal shapes of Metalica creazioni, the brand specialized in brass jewelry worked as rough surfaces combined with beautiful natural stones including lapis lazuli beads, veined jade ovoid, or decorated with a simple colored enamelling. The simple lines make the jewels not intrusive and flashy, but at the same time show a great personality, suitable for those strong women who do not need to fill their mouth with many words, or the wardrobe with many frills.
Totally different philosophy for Miseria & Nobilità, the bijoux brand of Valentina De Frante and Susanna Ferrari, born to satisfy that uncontrollable whim of owning an opulent haute couture-inspired jewel. The inspiration for the new collection finds its roots in botany and entomology with beetles, dragonflies and bees flitting in front of the face and rocking on floral chandelier earrings. Opulent pieces designed for women who want to have fun with fashion with a twist of excess.

Last but not least, the very pleasant encounter with Alessandra Vitali, the volcanic mind behind Finny's Design who presented her new statement necklaces made ​​with old Murano glass chandeliers, of which many pieces went sold out in an exhibition in New York. Among the other new items she brought there were: stoles made ​​from Japanese embroidered kimonos, fastened by the neck with minimal jewelry; long coral pendant earrings; cufflinks made ​​from vintage buttons and finally, the wonderful jewels made with joints or other hydraulic components embellished with emeralds and rubies in a riot of geometric shapes. Each piece is unique and tells a story, a craft or an old tradition that Alessandra learned by the last old craftsmen, and piece by piece, jewel by jewel, she shares these old secrets through the beauty of her creations.
The real surprise of this Fashion in Flair edition, however, was the large presence of exhibitors dedicated to the Home Decoration with very innovative ideas such as Metal Sound Design, the company that produces incredible high-tech chairs recycling the metal bins of mechanic's workshops. So a Tamoil bin could turn into a unique chair for the living room or the kitchen.  You could find very funny creations stopping by Giacomo Giustizieri. His biting sense of irony between pop-art and post-modern Robert Venturi-like philosophy, turned the monumental Ionic style columns of ancient Greek temples into minimal console of methacrylate or colored plexiglass, on which is almost spontaneous to put the DECORE comics lamp-shade by Gabriella Carfora.
In stark contrast to the previous designer, the work and the style of Roberta Brizzi, restorer and interior decorator who loves to recreate sophisticated environments, mixing original antiques pieces and unusual novelty made or decorated by herself reinterpreting the aesthetic codes of the past centuries.
Finally, last but not least, #TUTTOATTACCATO, the Venetian company of the architect and designer Carlo Guazzo that literally conquered me thanks to the innovations made to the ancient decoration techniques used in traditional crockery. Those that at first glance could seem pitchers decorated with industrial printed patterns, actually are entirely handmade ceramic pieces: from modeling the raw matter on the potter's wheel, to the all-over decorating phase with pieces of sponges shaped as flowers, as they used to do in Vicenza in the nineteenth century. In addition to the endless decorative combinations, everyone can choose the shape that best matches his own taste, from the classic 1 liter bottle used in the typical Italian taverns, to the classic Tuscan fiask of Chianti, ranging through the traditional trefoil jugs, up to the most modern and minimal cylindric shapes or the very peculiar bottles inspired by the still-lifes painted by Giorgio Morandi. If you think that ceramic is too heavy, the architect Carlo Guazzo reproduced the full range of products in a super-light glass version, with also colorful variations and in some cases with an internal striped motif which let the wine breathe. The production of this 100% made in Italy company doesn't stop here, but the entire Villa Bottini wouldn't have big enough to hold all the samples and furnitures made by them. Discovering #TUTTOATTACCATO was a really pleasant surprise for me, and obviously I've bought one of those wonderful hand-made jugs. Try to guess which one I've chosen!
Alessandro Masetti – The Fashion Commentator
Special thanks to the amazing staff of Fashion in Flair and Sandra